Get Inspired
An Electrically Assisted Bicycles at CRE Estrie
Project overview: an electrically assisted bicycle for business travel
Year of implementation: 2023
Number of electrically assisted bicycle: 1
A promising initiative
In March 2023, the Conseil régional de l'environnement de l'Estrie (CRE Estrie) acquired an electrically assisted bicycle (EAB) for its staff. The team has already covered more than 150 km. Six members have used it for business travel, whether to attend meetings, give workshops in schools, run errands for work or pick up a meal at lunchtime. According to Carbone Scol'ERE's greenhouse gas calculator, about 38 kg of CO2 were avoided so far, and summer has not even officially begun yet. Since the bike has been equipped for winter with studded tires and protective membranes for the various cables., it can be used year-round by the CRE Estrie team.
Members of the NPO who live in the Vieux Nord district can also rent the bike via the Locomotion application, which enables vehicles to be shared within a neighborhood community. In this way, the CRE Estrie hopes to encourage people to make a modal shift from the car to the electric bicycle.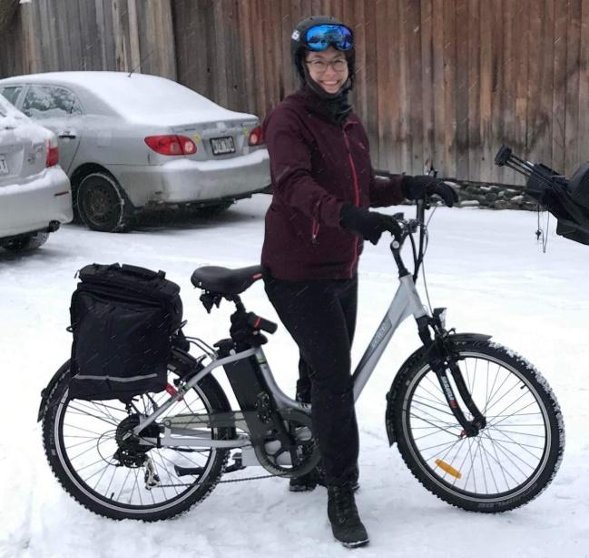 Gloria G.M., CRE Estrie employee, on the EAB in winter (Photo: Ariane Lafontaine)

A prime alternative in Estrie
In Estrie, electric bicycles are becoming increasingly visible on our roads. This is hardly surprising, given that this means of transport represents a tangible alternative to car use. Compared to the traditional bicycle, it can cover longer distances, climb hills more easily and be used by a wider public. Whether it's for commuting to work, picking up children from school or daycare, or for deliveries or professional meetings, this mode of transport can be put to many uses.
What exactly is an EAB? Basically, it's a bike with an electric motor powered by a rechargeable battery that acts as a pedal assist. For the motor to work, the cyclist has to pedal. The maximum speed of the motor assistance must be limited to 32 km/h, and the maximum power is 500 W. In Québec, you must be 18 years of age or over to drive a VAE or have a Class 6D license from 14 to 17 years of age. Wearing a helmet is also mandatory.
There are many different types of EABs. Among them, the electrically assisted cargo bike stands out for its ability to carry larger loads. In Copenhagen, Denmark, 25% of families with two or more children own a cargo bike for transporting children and running errands (1).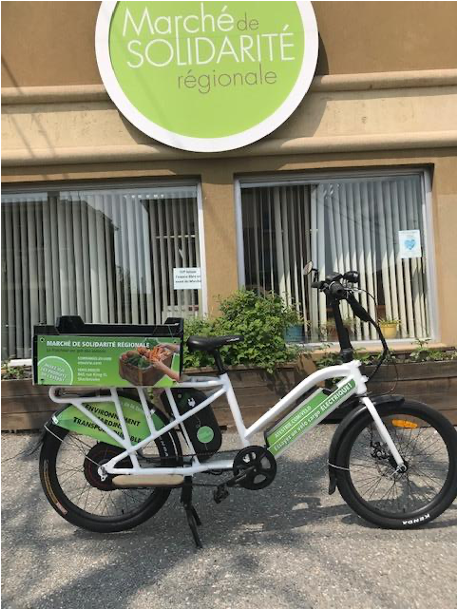 The Marché de solidarité régionale's longtail cargo bike (Photo: Bryan Teasdale)

A popular solution
The CRE Estrie is not the only organization in the region to have acquired an EAB for use in its professional activities. More and more regional initiatives are emerging, such as Moisson Estrie, which has obtained confirmation of funding from the City of Sherbrooke's Commission de l'environnement et de la mobilité to equip itself with an electric cargo bike for food deliveries and an EAB for employee travel. The Marché de solidarité régionale also uses an electric cargo bike for deliveries. There are also initiatives outside urban areas, such as the Municipality of Dudswell, which owns two EABs used by its "Green Patrol", the team responsible for verifying the conformity of citizens' shorelines in summer. A subsidy for the purchase of EABs for citizens' utilitarian travel should also be deployed by the City of Sherbrooke in spring 2024. Stay tuned!


This article was written by the Conseil régional de l'environnement de l'Estrie as part of the Running Electric campaign.


---
(1) Vélogistique, Marcel Robert, 2014.